What a trade show! We are so overwhelmed from Maison & Objet – in the most positive way possible, of course! After all, nothing is like sharing passion with professionals whose work we follow everyday through the internet. And this trade show was unbelievable because of that. Because of you. So, if you visited us at Maison & Objet, we would love to know your thoughts about our stand and which piece was your favourite.
Meanwhile, here are our highlights along with our most refreshing news (our new collection and product brochure) that we decided to showcase at the fair. Keep reading to know more about the magic pairing in the Hall 6 / Stand H63!
Distinguished products by our visitors
As you may know, we launched a new collection focused on comfort and functionality, which was showcased at Maison & Objet. We had no doubts: our new products were the main stars according to our visitors. Here are their favourites:
We combined seven elements from Edward to build a unique sofa that was delighted by everyone. This combination was composed by: two corner modules, one central module, one chaise-longue module and three complements (headrest, side table and magazine rack) – ED120.BF.E, ED120.CC, ED90.CC, ED120.CLG.D, ED.HR, ED.MA.S and ED.PR.
Upholstered with weaves Helmand 02 and with some details in Ruper Terra and Beige Grey Lacquered, Edward Sofa offered a distinct character for its versatility and specially for its endless comfort.
Beaumont Sofa's single motion opening system draw a special attention to our visitors. After all, it looks just like a normal sofa, right? However, the big surprise was the organization feature of this piece: you can forget about having a place for the pillows of your sofa-bed! With Beaumont, the pillows will never leave the piece.
It was presented upholstered in weaves Arno 10 and perfectly represented our ability to produce functional pieces for every lifestyle.
Upholstered with natural leather Desna Elephant with black ash, Vincent Bench expressed the handcraft tradition through a rigorous scheme of contrasts between its wooden structure and the upholstered seat. It is the perfect piece for a daily rest or a getaway space for you to put your daily reading up to date.
The production of benches was our main adventure of 2022, and it worked so well that we decided to offer you two more!
Regarding our most loved pieces from the fair, this was our visitors' top 3. However, they had the opportunity to see others, such us our bestsellers Shinto Sofa, Ruth Armchair and Anna Chair, for example. Check them out:
Being present at interior design trade shows is crucial to our path of achievements. Is the perfect way to keep up with the industry's trends and to increase our inspiration levels. Best of all: you can see our products in person, feel their materials and their comfort. In each detail of a product, you are able to find what we are made of, our identity. The feedback is always amazing, making our team fulfilled for one more success in our history. It is such a remarkable feeling!
Between other highly talented professionals in the interior design and architecture industries, we had the pleasure to receive Geraldine Tan, from the Little Big Bell Blog, who shared inspiring insights about the business with us and more about her passion for colour, design and decor. Geraldine promotes new talents and trends in the world of design and it is heartwarming having people like her by our side. Thank you, Geraldine!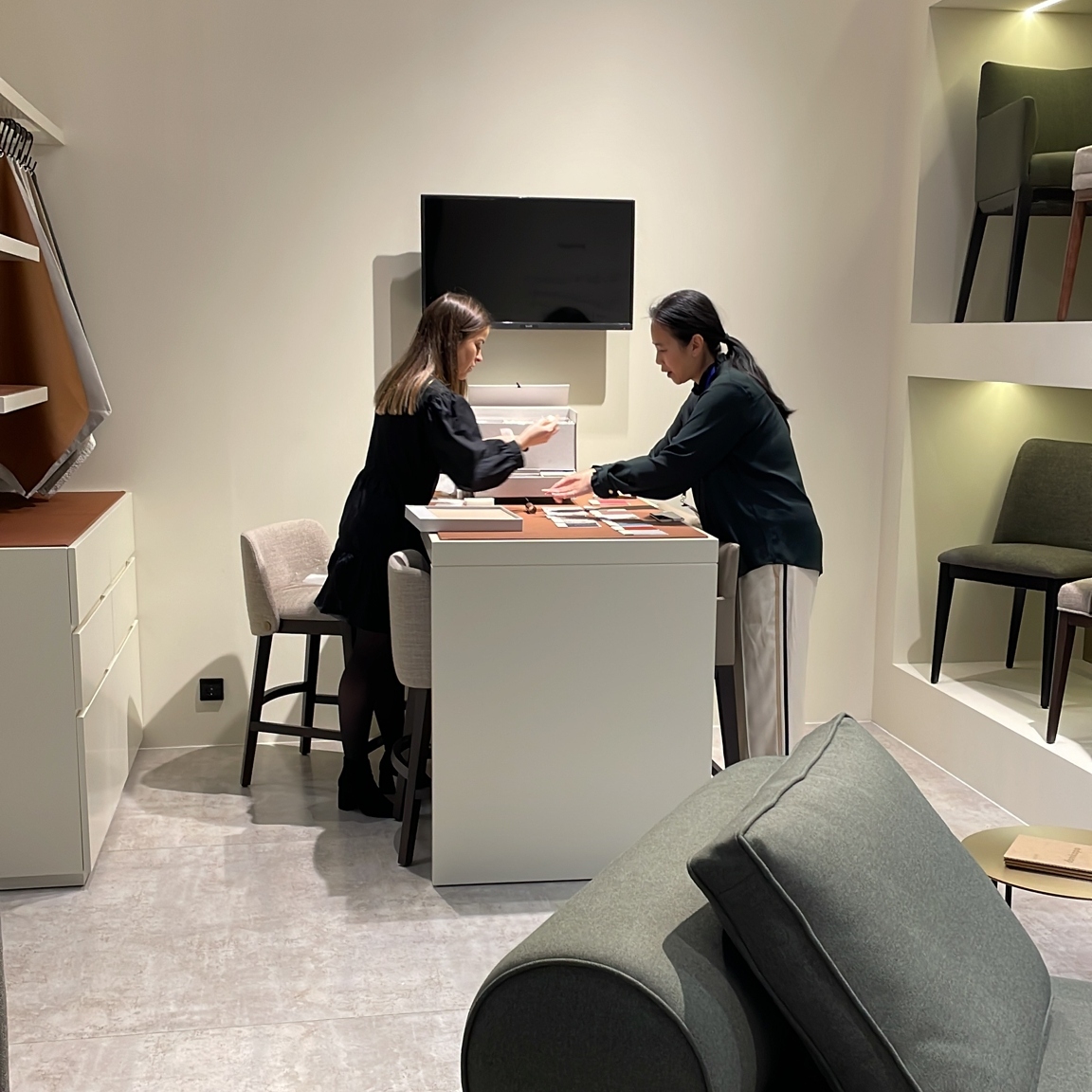 Capturing all these beautiful moments, we had by our side Bruno Couto Filmmaker. Thank you, Bruno, for your skill and creativity!
To be honest, we love every trade show we are present. However, this one was special: you could feel the good mood in the atmosphere and everyone was ready to talk and to share their biggest passion: interior design. And there is nothing more inspiring than that, right? Passion is everything. Maison & Objet 2023 was astonishing, and we just can't wait for the next edition. Will you meet us there?
During the trade show, our sales team shared our contact information with our visitors. If you didn't had the chance of attending to the show, we are available at the e-mail [email protected] for commercial proposals and [email protected] for marketing and press proposals!
YOU MAY ALSO LIKE: A Sample Box To Power Up Your Designs
We are working every day to bring you the most stylish ideas to fulfil your inspiration and to create the best interior design projects so feel free to follow our Instagram Page and subscribe to our newsletter.